By now, most of you have already started school, BUT it is never to late to get a new hair do! Just before school started, I had my BFF's Mom cut my hair! (Always a plus when your BFF's mom is a hairstylist.. can someone say free haircut?) Evidently, my split ends were so bad that she had to take off FOUR INCHES! Here is the end result!
Sadly, these are the best pictures I have. They were taken just before school started. Four inches off and layers galore! I absolutely love it! It's a new me, but still...me! I also took the brown I had underneath my blonde out and exchanged it for a light red (I was wanting a deep, auburn red, but I grabbed the wrong box!) It's a fresh, new look for my senior year!
Are you wanting a new look, but not sure what to get?? Here are a few ideas you might like!
Long Layers with Bangs~
For those of you who have long hair, but are afraid to do a dramatic change to your hair, I suggest doing nice, long layers, BUT I would take a small risk, and cut some bangs. The great thing about bangs is, if you don't like them, you won't have to wait long for them to be gone :) I love Reese's hair in this picture! (Note: It WAS the way I was wanting my hair, but I let my split ends go on and on, so if you want to grow your hair out, keep it maintained or else your dreams will die...like mine did.)
Short Hair with Short Layers~
This is an awesome haircut! I have always loved how Kimberly Caldwell has done her hair! It's always edgy (which I will show you later in this post) and super cool! Here, Kimberly has her hair cut just above her shoulders and has a few shorter layers in it. It is very awesome for those who want a shorter look.
Medium Length Hair with Longer Layers~
Rachel McAdams and my mom have only ONE thing in common, and that is, they can wear ANY hair color and/or style, and look amazing with it! Don't you just love and hate that?! This is one of my favorite looks for Rachel. Her hair is a medium length and it has about two longer layers, close in length. I like it because it is easier to style and you don't always HAVE to style it, or at least my mother doesn't!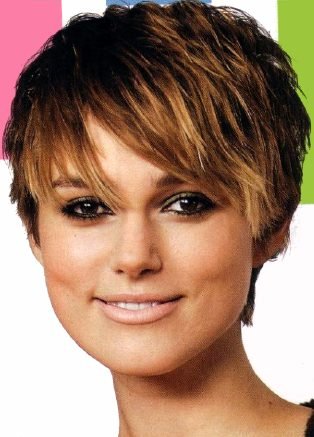 Pixie Cut~ I have always LOVED this look on Keira! For those of you who like the short short hair, this is a GREAT cut! Short, playful and unique (which is something I have always loved!) are the three word I would use to describe this cut! You can blow dry it quickly for a shaggy sort of look; you can straigthen it for a more polished look. Anyway you do it, it'll look GREAT!
So Ladies, I ask you this... which "do' is for YOU?! (Yeah, it's corny but hey, it works!)